Working throughout London & surrounding areas...
BS Plumbing offers a Powerflush service, which will improve the heat output from your radiators and also improve efficiency from your heating system. A power flush consists of attaching a machine to your central heating system via a suitable connection point and circulating chemicals and water around your system at high velocity in the normal and opposite direction of the water flow.
Over the years, we have become the team to turn to for power flushing in Brentwood, Braintree, Chelmsford, Billericay, Southend, Wickford, Epping, Benfleet and throughout the surrounding areas.
Learn a little bit about why power flushing your central heating could benefit you and help you save money on your bills.
Get in touch with our team on 0800 107 119 or 07977 411 372
During this process, we will isolate each individual radiator and circulate the chemicals through each until we are happy with the temperature output of the radiator. If you are having any problems with individual radiators, you can let us know beforehand and we can concentrate on that one a bit more until it is back to working order.
An additional advantage of using BS Plumbing to carry out your powerflush is that while we are carrying out the service, we attach a magnetic filter to the powerflush machine which will collect all the magnetic particles that are circulating around your system preventing them from entering your system again and removing them completely.
A powerflush usually takes around 6 hours to complete properly however this all depends on the condition of your heating system and the problems that you are experiencing.
Here are a few signs that you can look out for and test with your system to check if you could benefit from a powerflush. Our customer also see a decrease to their energy bills after they have had the system powerflushed as it is running more efficiently.
Kamco Power Flush Machine
Here at BS Plumbing, we use the very best equipment that the industry can offer. Our team of plumbers are specially trained with Kamco machines, allowing them to effectively and efficiently power flush all systems with expert results.
Kamco Power Flush machines have been specially designed to allow for a thorough cleaning of all systems, allowing for heat energy to efficiently flow throughout. With this we use the chemicals that Kamco have developed to work with this machine, offering the very best treatment for all sludge and rust removal.
Another service we can offer to help prevent the need for power flushing and help to keep your system in good working order is installing a magnetic filter. This covers your entire system by collecting any pieces of loose metal pieces that could be flowing through your system and acting to prevent these piece from building up and causing a blockage.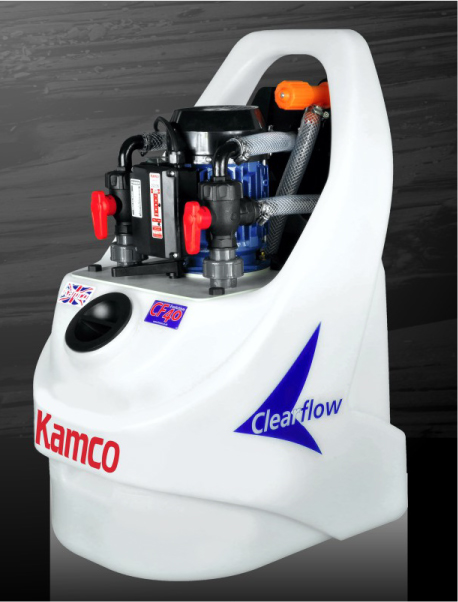 Schedule one of our trained engieers to carry out a service at a time that works for you. Fill out our booking form by picking the service you are after and choosing the date & time you would like. One of our professionals will then be in touch to confirm.
Finance Options Are Available
At BS Plumbing we want to make our services is as accessible and smooth as possible. This is why we have teamed up with the industry's leading lenders to provide you with a range of finance options to fit your lifestyle and budget. Follow the link below to view their interactive calculator and find the best rate and term for you. Representative 9.9% APR!
| * Representative Example | |
| --- | --- |
| Loan Amount: | £1800.00 |
| Deposit: | £0.00 |
| Monthly Repayment: | £37.79 |
| Number of Payments: | 60 |
| 9.9% Representative APR | |
| Total Repayable: | £2267.40 |
| Total Interest: | £467.40 |
We have years of experience within the industry, providing a professional service to many repeat customers
Company Number 10820524
VAT Number 374 5116 95